From Call-up to Cornerstone: Andersson Making His NHL Case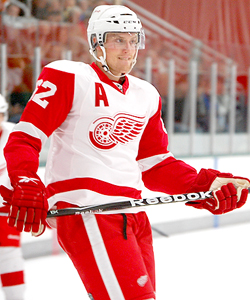 When the Red Wings recalled Joakim Andersson in early February, he was expected to be an extra forward after veteran forwards Todd Bertuzzi and Darren Helm suffered injuries. 38 regular season games later, the 6-foot-2, 206 pound forward hasn't left the line-up even as veteran forwards returned from injury.
Andersson, who is second in regular season games played by a rookie this season (Damien Brunner is first with 44 games), has exceeded expectations playing key minutes and seeing time on the panelty kill. The unassuming Swede has been known for his strong defensive play since being drafted by Detroit 88th overall in the 2007 NHL entry draft. He's spent the last two seasons in Grand Rapids honing his offensive skills and playing in every situation for the Griffins.
While Andersson has had offensive success in the AHL scoring 21 goals and 51 points in 73 games last season, he's projected more as a grinder at the NHL level. Currently centering Detroi't third line along side flashier forwards Gustav Nyquist and Brunner, the 24 year-old has been a key reason for the lines outstanding play through four playoff games. Andersson, who has two assists through four playoff games, is comfortable playing a more grinding defensive role on the line and allowing his more skilled wingers an opportunity to generate offense. The formula is working with the trio accounting for both over time goals to help the Wings tie the series at two.
The hardworking Andersson provides the stability and grit that has made the line successful and has helped balance the Red Wings scoring. It's a pretty impressive accomplishment for a player who was only expected to be an injury fill-in this season. Often overlooked because of his below average skating ability, Andersson has proven his critics wrong showing he is able to keep pace with the faster NHL while also establising himself as a legitimate third line center and staple on the penalty kill.
Out of AHL options next year, Andersson is hoping his strong play down the stretch will help him finally secure a full-time roster spot. The Wings, who also need to find full-time spots for Nyquist and Tomas Tatar next season, could face a difficult decision with a glut of young forward talent that also includes Calle Jarnkrok as well as the hopeful return of Darren Helm. With his line becoming one Detroit's most consistent in the post season, Andersson is already giving management something to think about, but a long playoff run could cement his position heading into training camp.