More than Moves: Jurco Proving His Skills on the Ice
Tomas Jurco wants to be known as a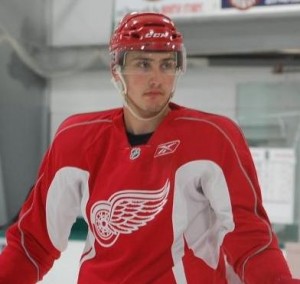 hockey player and not as a youtube sensation. The 6-foot-2, 193 pound right wing showcases his stick handling skills in videos that have generated thousands of views.
"I don't really do that stuff anymore," he said. "I filmed that for one competition. It's more about hockey now than about those moves."
The Kosice, Slovakia native has proven that his jaw dropping skills can translate into offense. Last season while playing with the Saint John Sea Dogs of the QMJHL, Jurco scored 30 goals 68 points in 48 games. He also notched an impressive 13 goals and 29 points during St. John's Memorial Cup run, which ended in a semi-final loss to Shawinigan.
"It was great year for me even though we didn't win the Cup again," he said. "I put up good numbers and I just had fun on the ice. I think I improved as a player and I have more confidence now."
Jurco will need that confidence boost next season as he hopes to transition to professional hockey. Though he hasn't technically signed an entry level contract with Detroit, he already has an agreement in place that will be finalized once the new transfer agreement is reached with Slovakia.
"The (transfer agreement) between the Slovak Federation and the NHL expired this summer," Jurco explained. "They have to agree to a new one before I can officially sign. I don't really know much about it, but they are working on the deal and then I will sign my contract."
The 19 year-old forward is hoping to earn a full time roster spot with Grand Rapids next season and if that happens he could find himself playing alongside countryman and friend Tomas Tatar. At the very least Tatar should be a big help to Jurco as he makes the transition.
"Obviously it's going to help if he and I are both in Grand Rapids," he said. "I am sure he'll give me some good advice because he has been there for three years."
Jurco is anticipating the transition on the ice as well and is spending the off season increasing his strength and conditioning. If he makes the Griffins opening day roster, he'll be one of the youngest players in the AHL next season and he will have to adapt to playing against older and stronger players.
"That is my goal this summer," he said. "I want to put on weight and add strength so I can compete and be my best. I am going to work hard and hope that I will get an opportunity in the NHL in the next couple of years, but we will see."
Jurco already had a small taste of the NHL last year when he appeared in one preseason game for Detroit last season. Despite being held pointless, the experience motivated him.
"I was a little bit surprised that some of the guys went home and I stayed to play in the preseason," he said. "It was great to be there that young and play with all those super stars. It was just one game, but made me want to be there full time."