Wings Add Estonian Forward, Rooba, to Development Camp Roster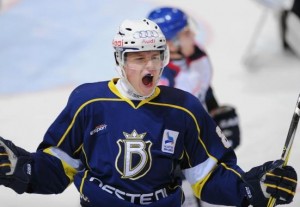 The Red Wings have announced a change to their 2012 development camp roster adding Robert Rooba. The 6-foot-3, 198 pound left wing replaces Vladislav Shalimov who will no longer be attending.
Rooba, who is a client of former Red Wing Igor Larionov, played last year for the Espoo Blues junior team in Finland where he scored 14 goals and 30 points in 39 games. The Tallin, Estonia native was passed over in both the 2011 and 2012 NHL entry drafts despite being ranked the 92nd best European skater in 2011. He was Estonia's top forward at the 2012 World Junior Division 2B Championship where he racked up an astonishing 13 goals and 19 points in 5 games. Rooba also played for Estonia at the recent World Championship where he notched 3 goals and 8 points in 5 games as a rookie.
For the updated roster click here.
For more on the other free agents attending the 2012 Red Wings development camp click here.