From Demolition Man to Grand Marshal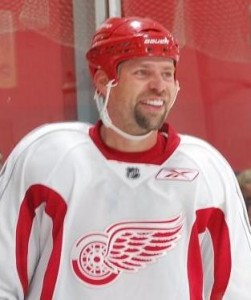 Tomas Holmstrom will serve as the Grand Marshal for the DTE Energy Cherry Royale parade on Saturday July 14th in Traverse City, MI. The parade, which is the largest of the Cherry Festival parades, will begin at 11:15 am at Railroad and Front streets in downtown Traverse City, MI.
Holmstrom's appearance at the parade is part of a partnership with Centre I.C.E. arena and the Detroit Red Wings Development camp which begins July 7th. The camp, which is in its second year in Traverse City, will feature daily practice sessions that will include many of Detroit's top prospects and 2012 draft selections. Tickets will be available at the door for a cost of $5 per day.
The 6-foot, 198 pound Swede has played 1,026 NHL games during the past 17 seasons for the Detroit Red Wings and he's been a key forward in multiple Stanley cup runs. This past season, Holmstrom was the Red Wings nominee for the annual Masterton Trophy presented to the NHL player who best exemplifies the qualities of perseverance, sportsmanship and dedication to Ice Hockey.
Visit www.cherryfestival.org for a complete schedule of events July 7 through 14, 2012.