Great Expectations: Filppula Finally Delivering on Scoring Promise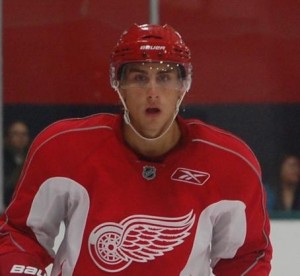 Valtteri Filppula is having the kind of season that's been expected for the past four seasons. Now in his sixth full season with the Detroit Red Wings, the 27 year-old forward is becoming the dynamic offensive player that the Wings coaching staff has long thought he could be. Through 47 games this season, Filppula has 15 goals and 39 points and is just a single point shy of his career best point total of 40 during the 2008-2009.
The Vantaa, Finland native became the first Finnish born player to ever play for the Red Wings back in the 2005-2006 season. He saw four games of NHL action that season before securing a full time roster spot the next season. Filppula has long been known for his sound defensive game and play-making ability. That being said, it's been frustrating to see his potential but not see it translate in consistent offensive contributions.
This season Filppula is finally be taking the next step offensively and is on pace for a significant offensive breakout. The 6-foot, 195 pound forward has played some of his best games this season along side Henrik Zetterberg and Jiri Hudler. The trio have formed a formidable second line for the Wings and helping drive Detroit's current winning streak.
While Filppula's contributions have never been fully measured on the box score, this season he's finally providing the secondary scoring Detroit has expected since signing him to a 5 year $15 million deal back in 2008.  While free agency looms large for the two-way forward in 2013, he's currently focused on helping Detroit win and improving his career offensive numbers.