The Everyday Player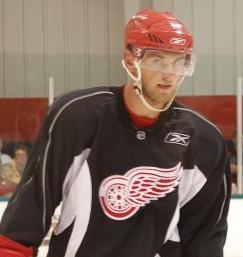 Jakub Kindl has become an everyday player for the Red Wings. The 24 year-old defenseman played just 48 games in his rookie season in Detroit. This season he's already played 31 games and is solidly entrenched on the third pairing along side Jonathan Ericsson.
Despite his solid play last year, questions surrounded Kindl entering this season especially in light of the departures of several veteran defensemen and the acquisition of Ian White and Mike Commodore. The 6-foot-3, 210 pound blueliner is making believers out of his skeptics and has already doubled his point production from last season  with a goal and eight points.
More impressive then his offensive contributions, is his improved defensive game. The Sumperk,, Czech Republic native is making better on-ice decisions while reducing mistakes resulting in a +8 rating so far this season.
The Red Wings have always felt the 19th overall selection in the 2o05 draft had a game well suited for the NHL level. While some rumbled about Kindl's development, especially after a tough rookie AHL campaign which saw him finish with a -34 rating through 75 games, Detroit  management and scouts remained steadfast in their plans for him.
Kindl's strong play this season has made Mike Commodore nearly irrelevant, limiting the veteran defenseman to just three games this season. He's giving the coaching staff no reason to take him out of the line-up playing confident smart hockey. If his play remains consistent, Kindl could be primed to assume an even larger role down the road.