World Junior Watch: Jurco and Tvrdon Could Power Slovakia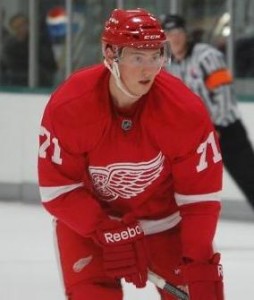 On Friday team Slovakia named Red Wings prospects Marek Tvrdon (pictured) and Tomas Jurco to their preliminary roster for the 2012 World Junior Championship which kicks off after Christmas. While the duo has not officially been named to the final roster, it's a safe bet that both players will make the final roster.
Matter of fact, Tvrdon and Jurco could be key contributors for Slovakia when they kick things off on December 27th against Latvia. The 6-foot-2, 187 pound Jurco is one of just six players returning to this year's team and his dynamic offensive skills could cause opposition teams difficulty. This will be Tvrdon's first WJC appearance after sitting out nearly all of last season with shoulder injury. He did represent Slovakia at the 2010 under 18 tournament where he scored 3 goals and 4 points in 6 games.
Jurco's offensive skills and dazzling puck handling skills are well documented and he's expected to be a key offensive weapon for the Slovaks. Tvrdon, on the other hand, could be the surprise of the tournament. The skilled winger has already notched 14 goals and 36 points in 30 games for Vancouver of the WHL this season. He's not as flashy as Jurco, but he's a big powerful winger with offensive skills who is primed for a breakout. The duo will be counted to have a chance to defeat the Russians and Swedes in the preliminary round.
While team Slovakia enters the tournament as an underdog to earn a spot at the medal rounds, Tvrdon and Jurco could be difference makers. The forwards should see a lot of ice time and play in all situations against some of the best players in the world. In addition, their individual performances will also go a long way to deciding their futures with the Red Wings.