Trickle Down Effect: Brunnstrom Demotion Will Have Roster Implications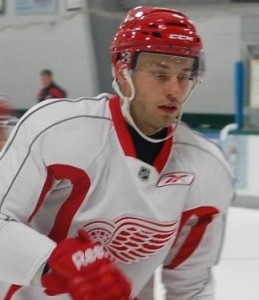 When the Red Wings announced that they had placed Fabian Brunnstrom on waivers Friday it was with the intention of getting the 26 year-old forward a chance to play. The 6-foot-2, 212 pound forward signed a one year two-way contract with Detroit after an impressive training camp tryout.
Since the start of the season, Brunnstrom has played in just one game and is unlikely to see the ice any time soon since all of Detroit's forwards are healthy. The move was necessary in order to keep the big Swede in game shape in the event that that the Wings might need to recall him for added depth. If Brunnstrom clears by noon on Monday, he could become a big part of the Griffins offense which has yet to find consistency opening the season with 4 wins in 9 games.
All that being said his demotion will likely force the Griffins to demote at least one player to Toledo of the ECHL. Competition for spots and playing time has been fierce since the start of training camp and the Brunnstrom move only adds an additional wrinkle for players already on the bubble including: