No More Doubting Thomas: Confident McCollum ready for Big Season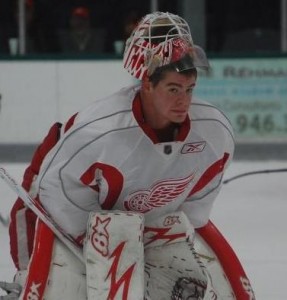 Thomas McCollum is trying to put the fun back in his game. The 30th overall selection in the 2008 NHL entry draft has put an enormous amount of pressure on himself over the past couple of seasons, only to have each end in disappointment.
"I think all along I have been pushing myself harder than Detroit has been pushing me," he said. "I understand that there is time and they aren't expecting me to be there playing tomorrow. I know I can go out there and relax, have fun and do my thing."
the 6-foot-2, 210 netminder has all the physical skills he needs to succeed in the position including size and quickness. That being said he's struggled to find consistency and earn AHL playing time. Last season he played just 22 games in Grand Rapids posting a mediocre 3.33 GAA and an .879 GAA.
"It's tough to argue that I physically can't play," McCollum said. "I've played so well on a number of different occasions. It's just a matter of really improving myself and getting better at letting things roll off my back when they don't go well."
Despite his less than stellar numbers, the Red Wings recalled McCollum as a back-up several times last season. In late March he served as Joey MacDonald's back-up after both Chris Osgood and Jimmy Howard sat out with injuries. The 21 year-old was forced into action after MacDonald allowed 7 goals on 39 shots. McCollum didn't fare a whole lot better playing just 15 minutes and allowing 3 goals on 8 shots.
"It didn't go great, but the way I look at it is I got the first one out of the way," He said sheepishly. "I got the 'oh my' factor done. So the next time I get a crack at it will be a familiar setting as I have been there before."
With all that behind him, McCollum is looking forward to the upcoming season and in particular working with new goaltending consultant, Chris Osgood. The former three time Stanley Cup champion understands the type of pressure on a goaltender in the Red Wings system better than most.
"I think working with Ozzie will be a huge advantage," McCollum said. "I think the biggest thing is it's going to give us a goalie coach at all times whether it's Ozzie or Jimmie B. That really helps because it's someone who understands exactly what we are going through and has been in the position before."
The Sanborn, New York native will take all the help and advice he can get as he battles with Joey MacDonald and Jordan Pearce for starts with the Griffins. To make matters more complicated, McCollum is in the last year of his entry-level contract and will need a big year to secure a new deal.
"Obviously it's the last year of my contract and it's pretty imperative that I have a good year," he said. "I know that when I am at the top of my game I can compete with anybody. As long as I play well and win hockey games I am sure I will get a chance in Grand Rapids and hopefully a new contract."
***
Team Delvecchio defeated Team Howe by a 2-1 margin today. Free agent tryout, Fabian Brunnstrom scored the game winning goal. Patrick Eaves score the teams other goal. Valtteri Filppula scored the lone goal for team Howe. Petr Mrazek allowed both goals for Team Howe, while Joey MacDonald stopped all 11 shots he faced. Ty Conklin allowed the lone goal against for team Delvecchio, while Thomas McCollum stopped all 13 shots he faced.
***
Fabian Brunnstrom really wants to be a Detroit Red Wing this time. The 6-foot-2, 212 pound forward was courted by the Wings three years ago, but opted to sign with the Dallas Stars instead. Since then he's played 99 NHL games scoring 19 goals and 40 points before spending significant time in the AHL.
"He scored 17 goals in his first 55 games in the league," Mike Babcock said. "Obviously the wheels came off the track, but he's a big body who can protect the puck. He has skill level s we'll see how he's evolved."
Brunnstrom scored the game winning goal in today's scrimmage and played well in the opening session.
"I would love to make this team," Brunnstrom said. "The Red Wings have been my favorite team since I grew up and this is where I want to play. I am going to do everything I can to make the team."
The Jonstrop, Sweden native will have to continue to push the other forwards in camp to have a chance at a contract with the Wings. He hopes to see a lot of time in the preseason for Detroit.
"I am on a tryout so I don't have much time to show what I can do," he said. "I have to take advantage of all the ice time I get. So preseason is very important."
The Red Wings have about $5.8 million in cap space and could afford to sign the 26 year-old forward if he earns a roster spot. The issue with signing either Brunnstrom or Ryan Johnson is the limited number of roster spaces available as opposed to cap related issues.
"I think Ryan Johnson and Brunnstrom are legitimate hockey players," Babcock said. "We are real fortunate cap wise that we are in a situation that if you are good enough to play on the team you can play on the team. It should be a real competitive exhibition series and we'll just continue to watch and see what happens."
***
The Red Wings believe their two new assistant coaches, Bill Peters and Jeff Blashill, will infuse the team with energy, ideas and enthusiasm.
"They're enthusiastic, intelligent and educated and they have an opinion on things which I think is great," Babcock said. "We've changed lots of things already because they have some pretty good ideas. I am real comfortable with both coaches. They're going to make us different and I am hoping substantially better."
Babcock also admits it may take some time for the duo to adjust to the NHL, Detroit's players, and his coaching style.
"They are still going to have to get comfortable with our guys and comfortable on the ice with me and understand what we expect," he said. "We're going to be a work in progress and try to get better all the time."
As for the process of selecting the new coaches, Babcock admitted the process evolved over time. The team started looking atmore experienced coaches first but changed direction during the discussions.
"We went through a long extensive process," he said. "In the end we just wanted to get better in the end we felt we had good experience in Ken Holland, Jim Nill and Mike Babcock. We thought we could use some inexperience, enthusiasm and ideas and we think we got that."