Tatar Hopes to Force Tough Choice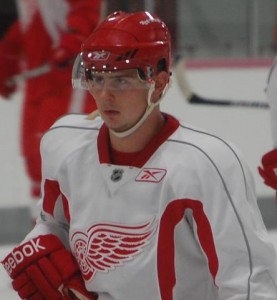 Tomas Tatar wants to make the decision on roster spots tough for the Red Wings. The 5-foot-10, 176 pound winger has an outside chance to make the Detroit's opening day roster but he'll have to beat out Cory Emmerton, Jan Mursak, Fabian Brunnstrom, Greg Johnson, and Chris Conner among others.
"I would like to make the team actually, but I know there is so many good players," he said.  "I try and play good and make it more difficult for them to choose. My chance is coming and I have to work hard for that."
While Tatar believes he is ready for the NHL, the Red Wings like to develop prospects slowly and they will likely keep him in Grand Rapids for one more season. The Dubnica, Slovakia native would be counted on to be a key contributor for the Griffins if that happens.
"I don't know if I will play in Grand Rapids or Detroit," Tatar said. "If it's Grand Rapids then I should be the guy who helps produce on the team like last year. The team looks good this year and I hope that I can help them make the playoffs."
The 20 year-old saw nine games of NHL action after receiving a call-up due to injuries. Tatar scored his first NHL goal in first game and the team saw flashes of the skill forward's potential.
"I was so excited  to play the first game in the NHL," he said. "I was kind of nervous, but after a couple of shifts it was alright. My goal was luck because the puck just hit me. It was first goal and I think it's good that the goal happened like that so I have more confidence."
The young forward also had a chance to experience the NHL playoffs this year as a "Black Ace" (spare who doesn't play). The experience helped him understand what he needs to do when he lands a full-time NHL job.
"It was a real good experience," he said. "I wasn't a part of it two years before because I went to World Championship, so this was my first year. It was really nice to see how the guys prepare for playoffs. I would like to be part of a playoff game some day."
***
While he doesn't know Tomas Jurco personally, Tomas Tatar is excited that the Red Wings added more Czechs and Slovaks in this past draft.
"It is good to have other Slovak guys like Jurco and Marek Tvrdon as well as the new Czech guy Nedomlel here," he said. "I am happy the group is bigger now. I think we will be good friends  and maybe one day we will play together in the NHL."
Tatar also has promised to help Andrej Nestrasil adjust to the AHL if he makes the Griffins out of training camp.
"I would like to really help Andrej like Jakub Kindl helped me," Tatar said. "I mean I will do my best for him. If he plays there I will try and help him find an apartment or whatever he needs. That will be my job."
***
Members of the Red Wings who were on the team last year boarded a charter flight to Detroit immediately after practice to attend the funeral service of former Red Wings assistant coach, Brad McCrimmon.
"I think it's real important for our team," head coach Mike Babcock said. "You know when you are making decisions about training camp, those are big decisions. I am thankful today that we did what we did because I think it's real important to the family and mindset wise not going wouldn't have been the right thing to do."
The team is expected to return to Traverse city later this evening and will resume their normal practice schedule tomorrow morning beginning at 9:30 am.
***
Pavel Datsyuk was donning a new number at today's practice. Datsyuk, who normally wears the number 13, had Ruslan Salei's old number 24 on his jersey. He plans to wear the new number for the rest of training camp and preseason.
"I think everyone misses Rusty," Datsyuk said. "I think it's an honor to wear his jersey in the preseason. I will remember only good about Rusty and I will be happy to wear number 24 in the preseason."
Datsyuk admitted he only new Salei in passing prior to last season. The two became friends throughout the season and he expressed regret for not having known him longer.
"I hope to have known him more and not just one year," Datsyuk said. "I miss him and I wished I knew him better. It's tough, he was a good man."
***
Mike Babcock is shaking up the lines already. Tomorrow Datsyuk will play without Holmstron on his wing. Instead, he will center a line of Patrick Eaves and Dan Cleary.
"Bottom line is we plan on doing what ever we can to help the team be successful," Babcock said. "Dan Cleary is a top 6 forward on our team and he has to play in that role. Patty can shoot the puck and he's a leader on the bench and in the weight room. To me he's kind of like a coach the way he thinks the game. If we can use his ability to shoot the puck in the net than maybe he can play there."
While Datsyuk will play with anyone on the team, he expressed his remorse for not playing with Holmstrom.
"I miss Holmstrom already," he said. "I play with him almost my whole career so I will miss him. It doesn't matter who you play with everyone brings something. I am going to have fun with everyone, but I miss Holmstrom."
***
Jiri Hudler opens the season under the gun after a dismal 2010-2011 campaign. The 5-foot-10, 180 pound forward contributed just 10 goals and 37 points on the year after returning from the KHL. Hudler will have to make a strong push to earn top flight minutes this season.
"We think Jiri Hudler is a top 6 forward too, but he's got to earn the right to be a top 6 forward," Babcock said. "Those things can't be given to you for free. Pavel and Z know what to do and do it. The rest of the forwards are a work in progress."
***
Head Coach Mike Babcock believes he has a young group of players for the Wings to build around. The group includes Justin Abdelkader, Darren Helm, Valterri Filppula, Johan Franzen, and Jonathan Ericsson. While Jakub Kindl wasn't mentioned, he is likely in the group, but will need to make a push for playing time this season.
"We are going to be better defensively and on the penalty kill, but we need those guys individually to be better and we will be a better team for it," Babcock said. "That's what you expect if you are going to be better. We added new coaches and they are going to bring about change as well just because of the fact that they have different ideas. To me when you put that all together that's where our growth comes from."
***
Tomas Jurco dressed for the Red Wings and participated in the drills with the third group. Jurco, who suffered a minor hip flexor injury looks to be healthy enough to play the rest of the scrimmages.
Gleason Fournier, who is coming off of shoulder surgery also participated in today's scrimmages.