In Honor of Stefan Liv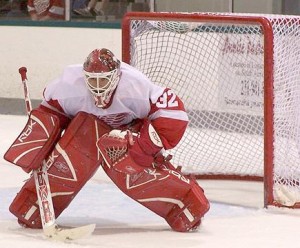 Stefan Liv was one of the 43 people killed in the tragic accident earlier today involving the plane carrying the Lokomotiv Yaroslavl hockey team of the KHL. I had the honor of interview Stefan on several occasions as he attended training camp in Traverse City, MI. Below is a reprint of the first piece I ever wrote about him and as I recall it may have been one of my first player interviews. Stefan was always giving with his time and his english was excellent. He was a fun player to watch and genuine good person.  I would like to extend my deepest sympathies to his family as well as to the families of the other victims.

Liv: 'It was time'
Veteran Swedish goaltender happy to be in North America …
By Sarah Lindenau – www.RedWingsCentral.com
September 14, 2006
Stefan Liv has waited a long time for this moment.
The 25-year-old goaltender will compete at his first Detroit Red Wings training camp this weekend in Traverse City, Mich., more than six years after being selected in the fourth round (102nd overall) of the 2000 draft.
Liv has quietly developed his game in the Swedish Elite League, starting 251 games for HV-71 while winning Olympic and world championship gold.
"It was time to get over here," said Liv. "It's good to finally be here."
The 6-foot, 185-pound stopper signed a one-year contract in May. The Red Wings had to sign him under the terms of the new collective bargaining agreement. Otherwise, Liv would have become a free agent.
"My agent and Detroit had talked, but I don't think they felt I was ready (to sign until this year) and I wasn't either," said Liv. "This was the first time they offered me a contract."
Liv is hoping to establish himself on Detroit's deep goaltending depth chart this season. He struggled in his first outing on Monday, when he surrendered six goals on 39 shots in a 6-5 double-overtime loss to the New York Rangers at the prospects tournament at Center Ice Arena.
"I didn't start off too good, but that is the first game of the season," said Liv. "I'm just going to go out, compete every day, and see where it takes me."
Liv, who said he has matured significantly over the past three years, is looking forward to finally competing against NHL shooters. He got a taste of them as Sweden's third-stringer at the Olympic Games, as well as for HV-71 in 2004-05 during the NHL work stoppage.
"I can barely wait for the pros to arrive to battle with them," said Liv. "I (can't) wait to meet Dominik Hasek. He's been my big idol since I started playing goal. It is going to be a thrill."
The Red Wings have a deep goaltending depth. Hasek and Chris Osgood will man the NHL crease, while speculation is that Joey MacDonald could be kept in Detroit as a permanent third-stringer.
That would leave highly-touted Jimmy Howard to battle Liv for playing time with the Grand Rapids Griffins of the American Hockey League.
"If that's the situation, that would be the perfect situation (for me)," said Liv. "Jimmy's an outstanding goaltender and we can push each other to be better. You can't take a day off."