Training Camp Ticket Fax Sale Starts Today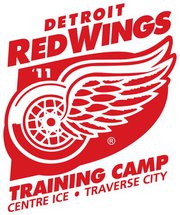 A fax ticket sale will begin as of noon on Monday July 11th for all remaining tickets for the 2011 Detroit Red Wings training camp. To purchase your tickets, please click here for the order form and fax it to (231)-933-3037.
Ticket availabilty for September 17, 18, and 20 is limited to standing room only. All ticket levels are available for September 19. The aditional practices scheduled for September 21 and 22 are available for general adminission price of $10.  For more on ticket pricing and other camp details click here.