Wings Keep Options Open With Inexpensive Defense Contracts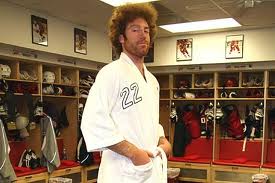 When the NHL free agency period opened at noon on Friday, the Red Wings hoped they would be able to shore up their defense. When players like Jame Wisniewski and Christian Ehrhoff signed long-term big ticket contracts, Detroit  was left looking for cheaper options. Ken Holland and company would find them in Mike Commodore (pictured) and Ian White whose combined salary cap hit is less than $4 million.
With a weak defensive market this off season, the Wings did not want to commit long-term to a player out of necessity. Instead, Holland and company wisely patched the holes left by the retiring Brian Rafalski and the departing Ruslan Salei. The additions of White and Commodore won't dominate headlines this offseason, but they do stabilize a defense that was in need of a makeover. Additionally the additions still leave the Red Wings with plenty of options once they secure a back-up goaltender and also give them flexibility to be active in 2012/2013 when the free agent market is likely to be stronger.
Commodore and White are welcome additions, one or both may just serve as stop gap measures until a more attractive defensive upgrade is available or until top prospect Brendan Smith is ready for a full-time NHL job. The Wings now have the flexibility to explore trade options without the previous sense of urgency. The much improved defensive depth will allow them to wait on the right option even if one doesn't present itself until the NHL trade deadline.