Oldie Not Always a Goodie: Wings Should Look Beyond Jagr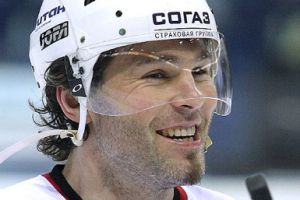 Jaromir Jagr is making headlines again. This time he wants to return to the NHL and has said the Red Wings would be an ideal team to play for. The former NHL MVP has spent the last three seasons playing for Omsk of the KHL. The 39 year-old forward has been productive in Russia tallying 66 goals and 146 points the last three years.
The Wings have had a lot of success in the past signing veteran players who have been able to contribute like Igor Larionov and Dallas Drake. On the other hand, you have to look no further than last seasons signing of Mike Modano to realize this type of signing doesn't always work.
In his prime, Jagr had the ability to dominate the game like no other, but he hasn't played in the NHL in three seasons and even before that his consistency and lack of a two-way game leave a lot to be desired. Having a name like Jagr in the line-up is tempting and may be a good marketing tool in the short-term, but building a winning team should be the focus. The Czech native may be able to add some level of secondary scoring that the Wings lack, but don't imagine him playing along side Datsyuk or Zetterberg as his days of being a top line forward have long since past. Furthermore, watching Jiri Hudler struggle as he tried to adjust to the North American game after spending a season in Russia should make the Wings even more wary.
While signing Jagr has some cache, it would do little to solve the Wings weaknesses and may turn out to be a waste of money spent on another grizzled veteran who spends more time in the press box than on the ice.   With the retirement of Brian Rafalski, Detroit has money available for  free agent acquisitions that could improve the team and they should be focusing on identify players who can fill the holes on defense and in goal.