Red Wings 2009 Draft Class the Strongest Since 1989?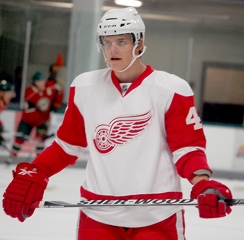 With the signing of both Adam Almqvist and Andrej Nestrasil (pictured) this week, the Detroit Red Wings have inked six of their seven 2009 draft picks. The only remaining unsigned prospect is college defenseman Nick Jensen, who has three years of NCAA eligibility remaining but is also a strong contender for a contract in a couple of years. The other 2009 selections with NHL contracts include Landon Ferraro (32nd overall), Tomas Tatar (60th), Gleason Fournier (90th), and Mitch Callahan (150th).
Detroit enters each draft year with the hopes of finding at least one player with NHL talent and typically the team signs players they feel have a chance to play in the NHL. While the jury is still out on which of the 2009 class will develop into NHL players, it is already one of the best draft classes in recent history. In addition to the six contracts inked by players from the 2009 draft, the class also features Tomas Tatar who already has a handful of NHL games under his belt.
The Red Wings are often cited for having one of the best drafts on record in 1989 when they drafted six players who had long NHL careers including Mike Sillinger (11th), Bob Boughner (32nd), Nick Lidstrom (53rd), Sergei Fedorov (74th), Dallas Drake (116th), and Vladimir Konstantinov (221st). The only other player from that year to see NHL action was Shawn McCosh (95th) who played in just nine NHL games.
While it will still be a number of years before the Red Wings know what kind of a haul they landed in 2009, they now have a few more years to find out if they have NHL talent. Even if only a couple of these players have long term NHL careers, the depth and skill provided from these players should bolster the Wings for years to come.